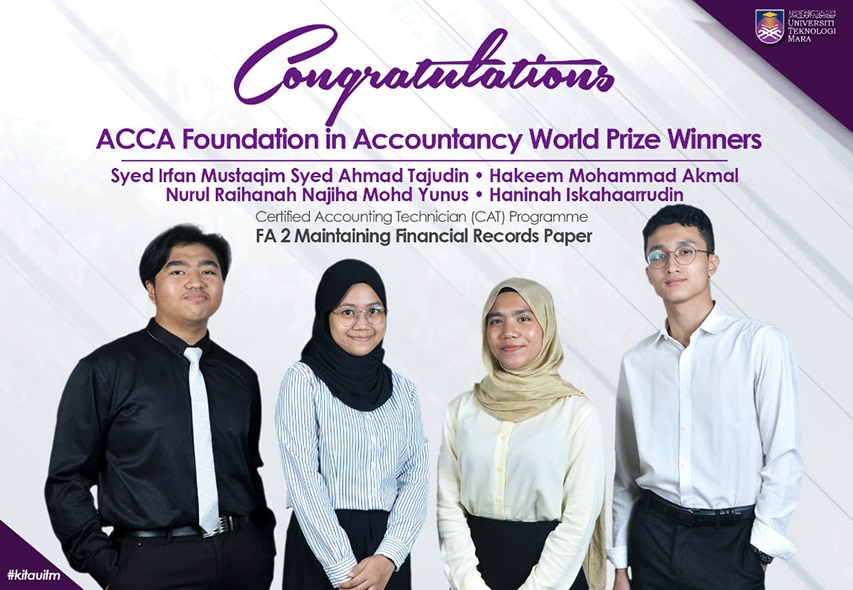 UiTM's Accounting Students Top the CAT Exam (QS wownews)
Four Universiti Teknologi MARA (UiTM) students from the Faculty of Accountancy, attained the highest score in professional accounting examination, the Certified Accounting Technician (CAT) which was held in December 2019.
Haninah Iskahaarrudin, Hakeem Mohammad Akmal, Nurul Raihanah Najiha Mohd Yunos, and Syed Irfan Mustaqim Syed Ahmad Tajudin, all aged 19, obtained a score of 98 for subject Maintaining Financial Records (FA2). The achievements of these students were rewarded by the globally recognized accounting professional body, the Association of Chartered Certified Accountants (ACCA), United Kingdom as number 1 in the world, thereby making them world prize-winners.
Haninah Iskahaarrudin expressed her disbelief in attaining the award alongside Hakeem Mohamad Akmal, who recently in December, managed to obtain another prize-winner award by ACCA for scoring 100 marks for subject Recording Financial Transactions paper (FA1). Syed Irfan Mustaqim, claimed that he was utterly grateful for this recognition as all his hard work in studying the professional accounting qualification paid off. This young lad from Bera, Pahang shared that one of his keys to success was to practice good time management.
Nurul Raihanah Najiha said that she felt overwhelmed when she received the good news. Her gratitude goes to her parents who have been her major supporter and also her lecturers for guiding her throughout. One matter the four of these prize-winners can agree in unison is that they are willing to give their unsurpassed commitment in completing their ACCA journey. With this achievement, they hope it would inspire others alike to attain this prize-winner recognition by the professional body.
UiTM is extremely proud of the achievement and positive impact its students have created both locally and internationally. It is the first public university in Malaysia to receive the ACCA Platinum Award for its professional accountancy tuition program which began in 2011. The Faculty of Accountancy has been for 60 years one of the foremost leaders in accounting education providing a wide range of programs at various levels of study including Diploma, Bachelor, Master's Degree, Doctor of Philosophy and professional programs like CAT, ACCA and CIMA (Certified Institute of Management Accountants).
https://qswownews.com/uitms-accounting-students-top-the-cat-exam/